<< Back
TAG'O 100HPD (New Model. New Features, New Benefits!)
Globally the label printing Industry is more than $55 billion and this is just the beginning! The tremendous potential of the label Printing Industry epresents huge opportunities for printers. And helping printers make the most of this booming market is Autoprint's Tag'O 100 HPD: an entry level,narrow width label printing machine.
Autoprint Tag'O 100HPD.( The machine you helped design.)
As a customer-focussed Company,Autoprint not only has its finger on the pulse of its customers but also an eye on the future of the idustry. The results are machines designed to meet customer requirements even as they are future-ready.
The new Tag'O 100 HPD has been designed to give quality outputs with a higher degree of flexibility. Designed for Roll to Roll printing on various substrates., the Tag'O 100 HPD comes with an optional Hot Foil Stamping Unit. Tag'O 100 HPD is especially suitable for printing on fabric tags and various self-adhesive label stocks.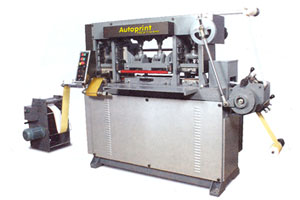 Technical Specifications
Model
Autoprint TAG'O 100 HPD (Label Printing - Flat Bed)
Unwinder Reel Diameter
400 mm (Maximum)
Maximum Web Width
100 mm
Maximum Print Width
92 mm
Maximum Web Repeat Length
122 mm (Four Colour Printing)
Printing Area (Maximum)
92 x 118 mm (Four Colour Printing)
Maximum Die Cut Area
92 x 118 mm
Maximum Speed
3500 Web Repeats per hour
Power (Main Drive)
3 HP, 3 Phase, AC, 220V (Connectable to Single Phase)
Unwind Drive
0.5 HP, Single Phase
Inking unit
8 Rollers including 2 Oscillator Rollers
Net Weight
800 Kgs
Gross Weight
1000 Kgs
Physical Dimensions
L x W x H
2600 x 1100 x 1500mm
Features / Advantages
Auto feeder and waste rewinder
External Die - Cut unit
- Pressure Can be adjusted
- Angular adjustment of Die is Possible
Lorger Diameter of Oscilator Roller for better ink grinding and supplying of more links
Centralised Side Gauge
Short-set-up times
Minimum Noise and Vibration.
Compact in Size
Enables Use of 0.97mm photo Polymer Plates
Optional Equipment/Items
Hot Foil Stamping Unit (Foilable Area : 92 x 118mm)
Infra-Red Dryer (Power:400w)

Vertical Rewinder
- Winding:300mm (Max.Diameter) - Core-75mm
- Power:90Watts
Sheeter
Vaccum Bed to hold the web ensures better registration