<< Back
Autoprint Reckoner VDP 50 (Variable Data Inkjet Printing)
Digital technology has transformed the way we live and work, connecting people and business like never before... Now discover unlimited business opportunities with Digital Ink Jet Printing Technology. Autoprint Reckoner VDP 50, an offline sheet-fed machine, integrates Ink Jet Printing Technology to provide commercial printers a complete solution for Variable Data Printing. With Autoprint Reckoner VDP 50, you can address complex as well as simple printing requirements from numbering, barcoding and addressing to logo printing, copy marking, personalised marketing messages and much more. You can also benefit from increased flexibility, decreased turn-around times and lower production costs too!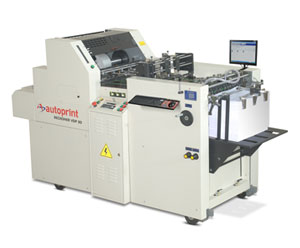 Technical Specifications
Model
Autoprint Reckoner VDP 50 (Variable Data Inkjet Printing)
Maximum Sheet Size
15" x 20" (380 mm x 508 mm)
Minimum Sheet Size
4" x 6" (100 mm x 150 mm)
Sheet Thickness
30 to 300 gsm
Speed
1500 - 5000 sheets per hour
Feeding
Single sheet Suction feeding System
Gripper Margin on Paper
12 mm (0.5")
Main Motor
1 HP, 230V,AC 3 Phase
(Connectable to Single Phase)
Compressor Motor
1 HP, 230V,AC Single Phase
Overall Dimensions
L x W x H - 96" x 50" x 40"
Standard Features
Encoder and Sheet Sensor for connecting to VDP
Extra Long Conveyor Table with Vacuum Suction to hold paper accurately
Vertical Perforation (1 Set of Holder and Wheel will be provided)
Double Sheet Detector
No Sheet Detector
Optional Equipment
Ink Jet Heads ½" to 4" depending on customer job requirement
Bulk Ink System
Cross perforation Cylinder
Inking and Cam System for Normal Numbering
Delivery Stacker
Additional Perforating Wheels, Numbering Cams and Numbering Rings
Computer with 4 PCI slots
Ultrasonic double sheet detector