<< Back
Autoprint Fine Coat 65 (UV Coating)
For years, lamination has been used to protect printed matter and enhance print value. In the recent past, however there has been increasing concern over the environmental impact of traditional lamination methods. The durability of lamination has also been questioned. Addressing both these issues effectively while enhancing visual appeal of the printed material is the Autoprint Fine Coat 65, an offline UV Coating Machine that helps you add value to your print job and tap the growing potential in this market segment.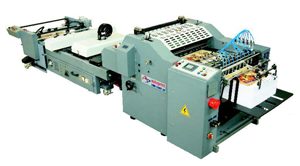 Technical Specifications
Model
Autoprint Fine Coat 65 (UV Coating)
Maximum Paper Size
480 x 660 mm (19 X 26 INCHES)
Minimum Paper Size
125 x 175 mm (5 X 7 INCHES)
Maximum Coating Area
465 x 645 mm
Paper Thickness
60-350 gsm
Coating Speed :
2000 - 5500 sph
Feeding System :
Single sheet
Blanket Size :
510x660x1.65 mm
Polymer plate thickness(For Spot Coating) :
1.6mm
Gripper Margin on Plate :
40 mm
Gripper Margin on Paper :
10 mm
Gripper Bite :
5 mm
Circumferential Image Micro Adjustment :
20 mm
Registration Accuracy :
± 0.5 mm
Pull Lay Fine Adjustment :
± 1.5 mm (Pull lay)
Delivery System :
Chain Delivery
Varnish Unit :
2 Roller with Anilox and Doctor Blade
Coating Thickness :
3 gsm
Lubrication System :
Centralised Lubrication System
Power Consumption :
3 kw Main M/c (4 hp), 8kw for Drier
Dimensions (L X W X H) :
2550 x 1400 x 1300 mm for Main Machine 2550 x 1400 x 4900 mm with Drier
Standard Features
Single sheet feeder
Pull type side lay
Coating unit with Anilox Roller and Doctor blade
Centralised touch screen control panel
Varnish pump / Duct
Rigid Delivery gripper
Double sheet detector
Plate Cylinder for Full / Spot coating
Removable Cylinder gripper
Adjustable Delivery guides
Optional Features (At Extra Cost)
Automatic Delivery stacker
Varnish Pump
Ultra sonic Double sheet detector
Drier Unit
Automatic Receeding pile Delivery stacker.
12 ft Vacuum Hold-down, Teflon Coated Fiber Belt Conveyor.
One IR Module comprising 2 IR Lamps of 2.5 kw each.
One UV Module comprising One UV Lamp of 300 Watts per inch power.
Optional Extra
Ultra Sonic Double Detector.