<< Back
Autoprint Dion 450 (4 Colour)
Autoprint's over 15 years of experience in the printing industry is evident in Autoprint Dion 450 - a Four Colour sheet-fed offset printing machine - incorporating sophisticated features and top-of-the-line specifications. Inspired by the over 6900 customers of Autoprint, this machine is the perfect solution for short-medium run four colour jobs. It offers exceptional print quality with its 15 Inking Rollers on each colour head. The Kompac Automatic Dampening System from USA not only ensures consistent print quality , but also acts as an additional inking unit to further enhance the print results.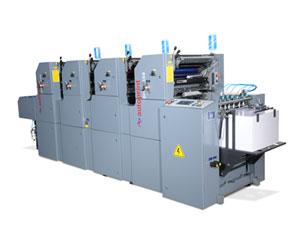 Technical Specifications
Model
Autoprint Dion 450 (4 Colour)
Number of Printing Units
Four
Maximum Paper Size
400 X 508 mm(16"×20")-optional
Minimum Paper Size
100 X 150 mm(4"×6")
Maximum Printing Area
375 x 490 mm
Paper Thickness
30 to 400 GSM
Print Speed
1500 - 6000 Sheets per hour
Feeding System
Single Sheet Feeder
Feeder Pile Height
60mm
Delivery Pile Height
500mm
Blanket
4 Ply Rubber blanket (4 Nos.)
Blanket Size
470x500mm
Blanket Thickness
1.9 mm
Gripper Margin on Plate
32 mm
Gripper Margin on Paper
9 mm
Gripper Bite
5 mm
Vertical Image Adjustment
± 30 mm (on all colour heads)
Lateral Image Adjustment
± 1 mm (on all colour heads)
Vertical Image Fine Adjustment
± 0.7 mm
Pull Lay Fine Adjustment
± 1.5 mm
Plate Thickness
0.3 mm
Delivery System
Chain Delivery with Auto receding Stacker
Inking Unit
18 Rollers including, 4 Oscillators and 3 Form Rollers (On each colour head)
Dampening System
Kompac Automatic Dampening System (On each colour head)
Power Source
3 Phase, 440 V, 50 Hz
Main Drive Motor
3.675 Kw (5HP)
Pump Motor
0.735 Kw (1 HP)
Physical Dimensions(L x W x H)
3800 x 1400 x 1700mm
Weight
Net 3000 Kgs. Approx.
Special Features
Automatic Switching Operation
Single Sheet Suction Foot Feeder
Ultrasonic Double sheet Detector
No sheet Detector
Cross feed Sensor with front Lay Lock
Coated grippers for improved register accuracy
Pull Type Side Lay on both sides
Speed Set-plate Clamps
18 Inking Rollers
Kompac Automatic Dampening System
Centralised Touch Screen Control Panel with PLC
Powder Spray Unit
Delivery Stacker with Auto Receding Pile and Detachable Tray
Centralized Lubrication System with Timer
Transfer Cylinder with Glass Bead Sheet for Anti-marking
Blanket Jam Sensor
Gear Driven Oscillators
Larger Ink Fountain Roller
Swing Type Ink Duct/Tank
Pre Register Plate Punch
Motorised Feeder Pile Lifting
Crawl Speed for faster make ready
Four fans in delivery for better stacking of paper
Hard Chromium coated cylinder to prevent corrosion and wear resistance
Hardened and Ground steel drive gear for smooth drive and lasting result
Prinitng with Bearers in contact for improved quality printing
Step less adjustment of link from ink Duct Roller for fine ink control
Pin register Mechanism for improved register accuracy and production
Optimally positioned rollers for improved consistency of link
Pre-inking of Plate cylinder to get first page to last page same ink density 10
Plate Bending Device